Warning: This post will make you hungry for vegan food.
I really should have created this post at the beginning of the year, but even though I'm about four months late, we can consider at least half of 2020 a "break" due to the Candyman crisis, so I expect these vegan food trends to continue well into 2021. Also we'll need to give restaurants some time to get butts in seats again before they start incorporating some of this juicy stuff.
Some of these food trends may seem like old news to long-time vegans, but are just coming to the forefront for those who are just leaning into plant-based eating. Others have been in place for Americans for quite some time, and need the right company or distributor to manufacture or get them to us here in the Great White North.
10. Edible containers
Bread bowls. Ice cream cones. Burritos. Eating your food "vehicle" isn't a new concept, but few have mastered the edible cutlery and plate game to the extent that it's being consumed on a mass level. Vancouver-borne Eat the Dishes might change that, though. Currently operating as a food stand and caterer, they recently won the annual grant contest for the city of Vancouver awarded by Virtuous Pie.
Biotrem's wheat bran-based plateware is currently available on Amazon, and caterers can impress with edible spoons by US-based Edibles by Jack (among other options).
9. Jackfruit
It took me about a year of watching vegan food influencers use jackfruit to make "pulled pork"-like sandwiches (like the one above) before I was finally game to try it. I have to give it up to Upton's Naturals for having such great packaging AND flavours, so I didn't even need to worry too much about seasoning- 'cause you MUST season jackfruit BEFORE you eat it or else it'll taste like soap on its own. Jackfruit's also available in canned form at grocery stores.
Other recipes you can make with this are vegan jerky, tacos, nachos, "crab" cakes and dip, "tuna," pizza, chili, BBQ "ribs," chick'n, stir-frys and curries, soups, pot pies, and meatballs. The possibilities are pretty endless. My recipes include:
My first attempt at Filipino lumpia with jackfruit was a complete fail, but whenever I can get my hands on the proper rolls, I can try this one again!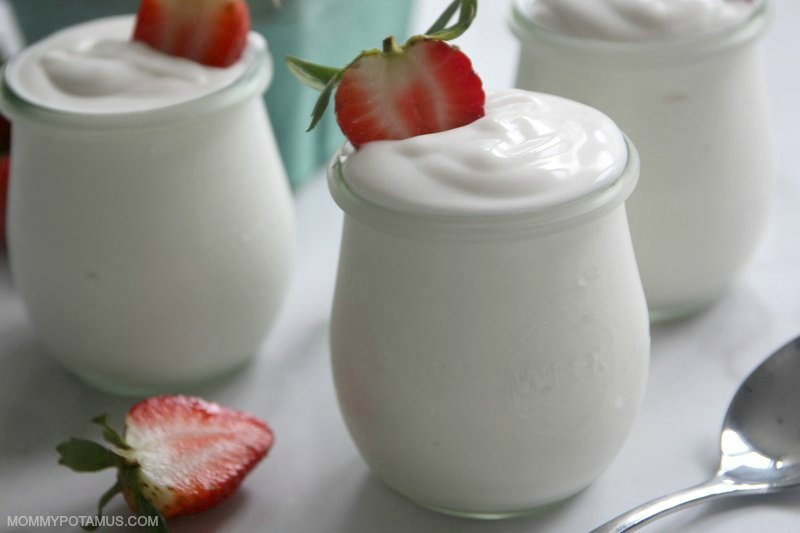 8. DIY anything
I'm not much of a make-it-myself cook, but I'm instantly impressed by anyone who makes their own non-dairy mylk. It takes valuable time…but I know it's worth it. I didn't know that there were so many types of mylks you can make, with pretty much just water. I tried my friend's hemp milk late last year and it tasted SO good. Like the liquid version of hemp seeds I eat every day!
Almond and cashew mylk are considered pretty amateur, but I know more folks are getting adventurous with seeds; others are going straight to yogurt, with coconuts (as in the image above).
The most impressive DIY projects I've seen lately are seitan, which I can't even comprehend. I understand it can be made just with flour, and that blows my mind. Right now, it seems like everyone's on the sourdough tip…and I wonder if yeast might be the new toilet paper.
If you're like me and would rather support local brands, try Nutmeg Mylk, Yoggu (which just launched a mango flavour-OMG), and seitan offerings from Green Cuisine and other brands, which are available at Vegan Supply.
7. Vegan "eggs"
While I haven't yet ventured into trying a plant-based "egg" and LOVE my tofu scramble, I think it's a matter of time before options like JUST Egg and Follow Your Heart's VeganEgg in the USA are readily available in Canadian grocery stores as much as vegan cheez is. You can already find Bob's Red Mill GF Egg Replacer and other brands on VeganSupply.ca.
I trust that when these options become more available, it'll crack an egg-cellent opportunity to move away from real eggs.
6. Vegan chocolate
First, I want to say that chocolate should always be vegan, even the "milky" kind. From what I learned at the workshops that the late Xoxolat used to hold in Vancouver, creating cocoa beans is an art much like coffee, and there's no good reason why dairy or even sugar needs to be in chocolate. This is on the trends list because the big candy and chocolate companies are finally getting on board: Cadbury, Nestle (which I boycott anyway), even Purdy's (tried, not a fan).
I recommend that you support your local chocolatiers as possible. Just some in BC:
Mom's Day is coming up soon, so if chocolates are something you usually get for your ma, please support your local businesses. I also love Alter Eco's bar flavours. When in doubt at a store, just look at the ingredients on the back and make sure milk or cream isn't on the list. If you're in a natural grocery store, you'll almost certainly find a vegan alternative to the mainstream (and often super unhealthy) chocolate bars. I used to hate dark when I was a kid (and I still love me some white), but I'm a solid 80% dark gal now. Get those antioxidants!
Photo: Tempea Natural Foods
5. Tempeh
I didn't know what tempeh was until a few years ago (it's fermented soy), and it turned me off because the first time I tried to cook with it, it wasn't seasoned very well and I didn't know that you don't need that much cooking time so I might have overcooked it on the outside, while it stayed soft on the inside. So I didn't touch it for awhile.
It wasn't until I tried a Kale & Tempeh Salad at a potluck last year when I realized tempeh could taste really good. I got the recipe, and then learned that not only was Green Cuisine available at Famous Foods, but they offered several flavours! I can't remember which one I had but after that, I was converted. I've said on social several times that tempeh is the "new tofu," but I still love tofu and they're just different versions of soy. I haven't published the recipe for that salad, but I'll share it soon since I'm going to be making it this week.
While my pick is Green Cuisine, Vancouver raves about its local maker, Tempea Natural Foods, which I learned recently is one of the few unpasteurized tempeh makers globally. I have to give them another try sometime.
Smoked tofu seems to be quite the rare gem in our city- but guess what? You can smoke tempeh too. Don't ask me where to find it 'cause restaurants change their menus all the time…but there's an idea for a tempeh-maker.
If you haven't yet experienced the beauty of tempeh, give it a try!
4. Plant-based mylks at cafes
While Starbucks and other mainstream cafes have had soy and almond milk for a while, and local cafes like Matchstick and 49th Parallel Coffee make their own house nut mylk, Bonus Bakery was one of the first places I knew in Vancouver to have the options in carafes. Starbucks expanded its offerings to include coconut and oat, and has been putting out more non-dairy-based latte blends. And that means, more to follow; apparently Tim Hortons now offers almond.
While this is all great, we need cafes NOT to charge extra. In fact, they should be charging extra for using animal-based milk, IMO.
Yellow Basket Baking's lavender cream croissant. Photo: Ariel Lin
3. More baked goods
So we're getting there in Vancouver. We've got croissants from Yellow Basket Baking (American fast fooders have the Burger King Impossible Croissan'wich), cinnamon buns from Flourgirl Baking, and cookies (everywhere- but Bonus Bakery's signature cookie and To Die For Fine Foods' Salted Double Chocolate with Marshmallow are the ones to beat). And you can get assortments, waffles, donuts, pies, and cakes from various places, including Whole Foods Market.
We're still missing a few things in the city though:
French toast
Crepes
Cheezcake
Souffle pancakes (I'm told Fluffy's NYC makes 'em well)
If anyone out there's looking to specialize, there's a market for some of these, at least in Vancouver.
2. Faux "chicken"
Faux chick'un options aren't new – Gardein offers frozen products for home cooks, and you can get seitan "drumsticks" at a lot of vegetarian Chinese restaurants. A&W and KFC have been testing plant-based options across North America this past year- but they haven't been consistent, which means they're still figuring it out. Juke Chicken brought the Chick'un Sandwich back in a big way with the version on their plant-based menu at Beetbox, and UK's Daring Foods launched their products in the USA last year. So even though we've gotten a sprinkling, I think that we're still looking for that one solid, reliable version like what Beyond Meat did for beef patties.
I'm counting on a faux McChickun from McD's at some point in the future- but maybe not as soon as 2021. They've also gotta get a plant-based version of that sauce right!
1. Faux "seafood"
This is #1 on the list because it's one plant-based version I've yet to taste. I discovered last last year that VeganSupply.ca sold "faux" shrimp from a Chinese manufacturer/distributor, but I never used to cook shrimp before going veg, so I didn't jump on trying it. Vancouver's own The Modern Meat not only offers healthier meat alternatives, but they've got crab cakes I'm dying to try (see photo in the feature image of this blog).
General Mills subsidiary Good Catch has faux tuna, Uptons Naturals is launching banana blossom-based filets, and Kuleana is trying out sashimi. Mizu Sushi Co just launched earlier this year, and you can get their plant-based sushi at Body Energy Club at Waterfront Station, or order their catering. I can't wait to try them out.
Speaking of banana blossom, earlier this year I met my extended aunt whose father created a plant-based meat alternative in the Philippines in the 1970's. His company, OscarAnn's, has banana-blossom based products, including Bopis, which is a traditional pork-based Filipino dish. She gave me some of the product which is made of tofu, banana blossom and veggie meat, and I've included the photos of it below.
What else I wish was on the menu:
More seitan and soy curls. Seitan's on the DIY and faux chick'un lists, but besides VeganSupply.ca, you can't get it in many stores yet. Same with soy curls- they've been offered in the USA for years and Butler Foods has a monopoly on it until a food manufacturer in Canada has the ability to take it on. It's also available at VeganSupply.ca. So while I think these are coming, I don't think it'll be in the mainstream in Vancouver as soon as 2021.
While you're not gonna see me jumping to try out ALL of these trends, I definitely want to order take-out and support my local restaurants at least once a month. I hope you have fun cooking, baking, or getting vegan food delivered indoors.
If I've missed any major vegan food trends you thought should be on this list, let me know in the comments!