This is an archived blog from when I ran Conscious Public Relations Inc. from 2008-2018. Excuse the potential outdated-ness!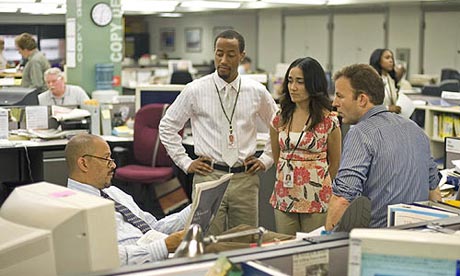 Photo credit: static.guim.co.uk
Leo and I just finished the final episode in the HBO series The Wire, about the Baltimore drug scene and law enforcement from about the mid 1990's to early 2000's. Called one of the most 'slept on' shows ever created, writer, author and former police journalist David Simon follows the lives of both drug dealers and Baltimore police. The show's run was from 2002-2008.
What I loved about this show was that it showed me a piece of what it would be (and likely is) like in a major American city where drugs are rampant. In the fifth and final season, members of the Baltimore Sun newspaper are introduced, who play important roles in both police cases and politics. Season 4 is also eye opening as we follow students in an 8th grade classroom, taught by former cop Roland Pryzbylewski ("Prez") and see how both the government system and life on the streets play roles in how the kids ultimately grow up.
This show is not for those looking for a light comedy. It blatantly shows you lives immersed in drugs, violence, sex, political, police, and media corruption, and the entire flaws of the system. But the more conscious we can be of how the world likely is, I think the more solutions we can create.